Golden sands and giant waves, Nazaré in Portugal is a popular destination with locals and surfers from all over the world. Yet, many tourists we speak to aren't familiar with Nazaré, beyond its famous waves, when in reality it has so much more to offer. So if you're planning a trip to Portugal, a visit to Nazaré is a must. We spent 6 months living there and this week we're showing you all the best spots! Including things to do in Nazaré, places to eat, where to stay in Nazaré and our favourite day trips!
This post may contain affiliate links. If you choose to make a purchase from a site we've linked to, we make a small commision at no extra cost to you. Thank you for your support.
Jump To;
Where is Nazaré?

Let's start with the most important point. Where is Nazaré? Conveniently 1.5 hours (122 km) from Lisbon, and 2 hours (214 km) from Porto, Nazaré is located in the Leiria region of the beautiful Silver Coast. Despite being so close to the two main cities, Nazaré will still delight with its small town feel and local charm so don't let that (or the crowds) put you off!
How to get to Nazaré (Plus tips for Portugal toll roads)
Nomatter how you're travelling around Portugal, adding Nazaré to your Portugal road trip itinerary is easy peasy, thanks to how accessible it is by public transport for travellers, and by road.
In your own car from Lisbon

you can follow the N/A 8 toll road (roughly €7 for a standard car) for 1.5 hours, or the N/A 1 toll free road.

In your own car from Porto

you can follow the A17 toll road (roughly €15 for a standard car) for 2 hours, or the N1 for 3.h hours.
Wait – toll roads? There are toll roads in Portugal??
Ahh, yes and they can easily sneak up on you if you don't know about them – after 6 years in Australia/New Zealand, we'd completely forgotten that they were a thing – and while they do make your trip a bit quicker, they can cost you quite a bit more. For us, we try to go toll-free as much as possible and enjoy the scenery along the way, but here's some tips about the toll roads in Portugal:
The most common way tourists use the toll roads in Portugal is with the pay as you go system, stopping in each lane and paying at the gate. These are mostly unmanned now and usualy have card or cash options. With this, you have to make sure you avoid the 'V' lanes, as they're for holders of the Via Verde monitor.
Which leads me to another Portuguese toll roll road option for tourists. The Via Verde automated payment monitor. This is a little box that sits in the car's windscreen, connected to your chosen bank account it makes toll road trips even easier for locals and tourists.
Each time you pass through a V lane on a toll road it will automatically take payment, meaning you don't have to stop at each gate – and there can be a lot of them, depending on where you're going! You get toll discounts by having the device, so if you're travelling Portugal by car for an extended time, a Via Verde might save you some money and they're valid in Spain too! Read more about the Via Verde for tourists, here.
The Barefoot Nomads have a more in depth guide to Portuguese toll roads if you want to boff up on them before your road trip.
If you're flying into either city, and want to visit Nazaré without a car, there's still plenty of options. Many of the main coach services run Lisbon – Porto via Nazaré throughout the day.
Whichever direction you're travelling, the coach takes 2.5 to 4 hours and costs between €9 and €20 depending on the company and time of day. (Prices as of January '23) You can check Nazaré coach prices here.
Things to do in Nazaré
Nazaré, Portugal is a nice mix of touristy hot spots (thanks to the famous big waves – but I'll talk about those more in a mo) and a quaint old fishing town, holding on to its age-old traditions. This makes for a really nice mix of things to do in Nazaré, and there's something for everyone!
Nazaré Giant Waves & Praia do Norte
Let's talk about the most famous things to do in Nazaré first, shall we: watch the Nazaré Giant Waves. This is the reason why Nazaré is so famous. I'd be surprised if you haven't seen at least one clip of the giant wave surfing that happens in Nazaré.
Every year, between October and March, Nazaré experiences its annual big wave season at its famous beach: Praia do Norte. This is when the ocean really comes alive, producinh waves that pass 30m/100ft tall… and that's no exaggeration.
Surfers from all over the world flock to Nazaré and Praia do Norte during this time to compete in giant wave surfing and try to break world records. It truly is a sight to see and because of this, while other parts of coastal Portugal are experiencing a winter quiet season Nazaré has a boom of tourists who want to watch this dangerous sport unfold.
Why does Nazaré have big waves?
The answer is 'simple', just off the coast lies a huge ocean canyon – the biggest in Europe, at least 5,000 metres (16,000 ft) and about 230 kilometres long – positioned in such a way that the current is pushed down and up to form the huge waves everyone loves. You can get a more in depth explanation to why Nazaré waves are so big, here
If you want to visit for the big wave season, you'll want to keep your eye on the Nazaré wave forecast to avoid being disappointed. Mother nature isn't guaranteed to be putting on a show everyday, so use this website to keep track of giant swells.
While the lighthouse overlooking Praia do Norte is the most popular spot to watch the surging, we think the best place to see the Nazaré big waves is from the dunes just before the lighthouse. The beach is also a great alternative for summer sunbathing if you want to avoid the mass crowds that gather on Praia da Nazaré
São Miguel Arcanjo Fort
If you're already heading to see the Nazaré big waves, this 16th Century fort will likely already be on your radar for things to do in Nazaré. Originally built to guide ships, it now acts as a viewing platform for the Nazaré big wave competitions & museum to the world famous sport.
Entry is just €1, inside you'll also find an art gallery dedicated to the epic waves, a scientific display about what causes the Nazaré big waves and a cultural display about the world of surfing, including boards donated by famous surfers. Once you've soaked it all up, you can head to the top to take in the views and, seasons depending, watch some highly skilled surf taking place.
Note: When there's a competition on, you'll want to arrive early. It gets busy up there with tourists and occasionally TV crew.
Things To Do In Nazare, Selfie With The Sufing Stag By The Lighthouse
Nazaré Funicular
The Nazaré Funicular is on of the unmissable things to do in Nazaré. Essentially a tram that scales the cliff from the centre of Nazaré to Sitio square (from here you can walk to the fort). It departs every 15 minutes, gives spectacular views across town and saves you from walking in the summer heat to the view points at the top (a 30/45 minute walk up hill). Prices as of Jan 2023 are €1.50 one way and a return ticket is €2.90 per person.
Can dogs go on the Nazaré Funicular? Yes, but they must be put inside the crate provided at the front of the Funicular. If your dog isn't crate trained, and you don't fancy the 30 minute steep uphill walk, it might be better to take a taxi/bus or drive to the top instead.
Miradouro do Suberco
For the best bird's eye view of Nazaré, you'll want to head to this cliff top view point once you've reached the top of Nazaré Funicular.
Things To Do In Nazare, Views From The Fanicular
Nossa Senhora da Nazaré Sanctuary
If you're a fan of European architecture, don't forget to stop and see Nossa Senhora da Nazaré Sanctuary on your walk from the Funicular to São Miguel Arcanjo Fort.
Located in Sitio square, this beautiful building was built in 1377 as a pilgrimage site. People would travel here to see an image of The Virgin Mary that is said to have been originally carved in Nazareth, present-day Israel (where Nazaré gets its name).
Traditional Boats & Sun Dried Fish Museum 
Nazaré is an old fishing town, so it should be no surprise to hear that the fishing traditions are so proudly displayed here, and unless you walk around with your eyes closed, they're one of the things to do in Nazaré that you can't really miss .
At an open-air museum on the shorefront, alongside the classic Portuguese wave-pattern tiles –  you'll find a beautiful display of traditional colourful boats that were once used to bring home the catch of the day. Some even have old photos of them out at sea (in English and Portuguese) as well as a little bit of the boat's history, so be sure to stop and have a read as you pass by!
Next to the traditional boats, you'll see (and smell) the display of sun-drying fish, accompanied by what I fondly call the fishing nanna's: older women dressed in traditional Nazaré clothing. You can learn more about this centuries old preservation method in the Museum opposite where the nanna's sit, and if you really want you can purchase some from them too – we've never been brave enough to try it.
Things to do in Nazaré with a dog
All of the previous things to do in Nazaré have been dog friendly, but another one of our favourite things to do specifically with dogs is to simply head onto Praia da Nazaré. The main beach in Nazaré is dog friendly for most of the year, with peak summer season having a few minor restrictions. You'll often see locals and tourists playing with their dog on the beach here, and before we had Lilly it was great to see. Now, with Lilly, we've been able to join in on the shenanigans.
Another dog friendly thing to do in Nazaré is to follow the path right through the Marina and around to Farol Nazaré Pontão. From here you get an alternative view of the town, and might even meet some of the local cat colonies along the way.
Dog Friendly Things To Do In Nazare, Stroll Praia da Nazaré
Where to stay in Nazaré
Like all touristy spots, Nazaré is a hive of Air B+Bs, local B+Bs and a small selection of inner-town hotels so you're never short of places to stay.
Before living in Nazaré for 6 months, we spent a week at Hotel Miramar Sul and can 100% recommend it. Their rooms are comfy, the buffet breakfast is delicious and the views incredible. The only downside is it's a 30 minute walk (downhill) into town, or a short taxi ride. For us, this wasn't an issue and provided us a little extra time to get to know the town we knew we would be moving to.
Pets aren't allowed at the Miramar hotels, so now we have Lilly we'll be looking for a dog friendly alternative, likely an AirBnB – I'll be sure to update this post when we find one we like.
Day Trips From Nazaré 
As I mentioned earlier Nazaré is in a great location close to the two main cities of Portugal making them both a great option for day trips from Nazaré if you're restricted by public transport. However, there's a handful of really unique little Portuguese towns that we think deserve to be on your Portugal road trip itinerary and are perfect day trips from Nazaré for those with their own car.
Obidos
Just 40 minutes outside of Nazaré, you'll find Obidos; a charming fortified village that is a day trip from Nazaré you can't miss. Inside the ancient walls of Obidos, you'll find traditionally painted houses in labyrinth-style streets guarded by a mediaeval castle. While there, you can walk around the town walls for beautiful views of the area, try the local cherry liquor, explore the castle, visit the 16th Century viaduct or, if timed right, take part in their annual chocolate festival which happens every year in March.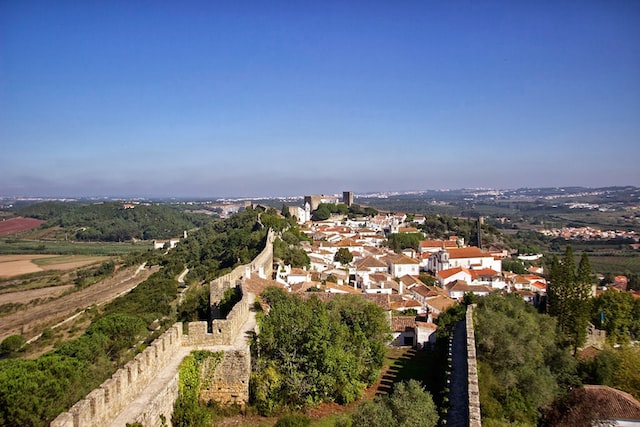 Day Trips From Nazare; Obidos Wall Photo Courtesy Of Katia
Fatima
Fatima is a fairly modern pilgrim location in Portugal. In 1917, 3 young shepherds are said to have been visited by The Virgin Mary, since then the location has become intensely meaningful to Portuguese Catholics, with thousands of devotees congregating every year. For many, it's a life ambition to visit the Sanctuary of Fátima. For the non-religious it's still a sight to behold. There's an endless amount of things to do in Fatima that all centre around the apparition of the Virgin Mary, but If religion isn't up your street you can head underground and into the Grutas da Moeda, an underground cave network first discovered in 1971.
Batalha
30 minutes from Nazaré is one of my favourite small towns in Portugal – Batalha (Pronounced Bat-al-yah). Now, there isn't much to do here so it really is best done as a day trip from Nazaré (or Lisbon) but it definitely deserves a place on your Central Portuguese road trip. Why? Purely for the monastery – Monsteiro Da Batalha – that sits central to the town. This beautiful example of European architecture was built to commemorate the victory of the Portuguese over the Castilians at the battle of Aljubarrota in 1385, and now serves as the tomb for King Joao (King John), his wife and their four sons. It became a UNESCO world heritage site in 1983 and is up there as one of my favourite buildings in Portugal. Besides the Monastery, there's also the Interpretation Centre of Aljubarrota Battle, a museum located on the military camp of St.George where the battle between the Portuguese and Castilians took place in 1385 and the Batalha Conselhia Community Museum, two great options if you want to learn more about the history and culture of area. If you do decide you want to spend the night at Batalha, we highly recommend Hotel Lis.
Day Trips From Nazare; Batalha or Hogwarts?
Aveiro
Aveiro deserves a full couple of days to itself, but if you're running short on time it's a great option for a day trip from Nazaré. Known as the Portuguese Venice, Aveiro is built around a network of old canals. There's a lot of history here and the best way to learn about it is through a Moliceiro Tour. The Moliceiros, much like the traditional fishing boats in Nazaré, were once used for transporting produce such as seaweed and salt, today they provide an efficient way for tourists to see the sights.
Day Trip From Nazare, Aveiro Photo Courtesy of Ricardo.
Where to eat in Nazaré
Now, I've said this before and I'll say it again – we're not foodies. We love good tasting food with great service but we by no means spend ages sniffing out local hot spots. With that said, we spent 6 months living in Nazaré so here are some of our favourite places to eat in Nazaré.
3 Sabores
Located on the seafront just around the corner from our old apartment, 3 Saboesr was our go-to lunch spot, mostly because it reminded us of the brunch culture we loved so much in New Zealand. Unlike other cafes in town, Tres Sabor (translates to three flavours) is open early, closes late and doesn't stop serving food at points throughout the day. Besides common Portuguese lunch dishes, here you'll also find pancakes, french toast, burgers and some really good baguettes!
Gelatomania
It wouldn't be a beach-side destination without a good ice cream place. Gelatomania does the best pancakes & waffles in Nazaré and I challenge anyone who disagrees. Sure, it's a chain but there's a reason this place has huge queues in the summer. Located on the main stretch of beach, it's hard to miss so try one and let us know what you think!
Places To Eat In Nazare; Nutella &  Strawberry Pancakes
Taverna do 8 ó 80
Now, I'm going to preface this by saying it was closed when we visited in January but I really hope it was just for renovations or for seasonal holidays because this place is A-MAZING. The food is great, but what really made us go back repeatedly was their main waiter Paulo. Speaking several languages fluently, you can really tell he loves his job and will welcome you like family. Go there often enough, and he'll have the wine on the table waiting for you. We haven't had a dish here that we weren't impressed with and it's a great place to eat at sunset thanks to unobstructed views across the beach.
Tabernassa
This was the first place we ate at when we visited Nazaré on our accommodation scouting trip and we've been back countless times since but unlike 8 '80, we haven't strayed too far into the menu here. Dec always goes for the T-bone steak (meant for sharing) and I'll have either the veggie curry or the burger – both are delicious. We have occasionally had a meal that hasn't been as good as others but we'd still recommend it – just try and go when it isn't really really busy.
Places To Eat In Nazare; T-Bone Steak & Chips
Little India
6 months in Nazaré meant we occasionally fancied a good authentic indian curry *like I said, not foodies) and thankfully, we had Little India. A tiny restaurant tucked off the main streets, I don't think many tourists stumble across it but if you're visiting Nazaré and need a curry hit – this is your go-to place.
These were just 5 places to eat in Nazaré but in reality, everywhere we tried was good but these really stand out! Oh, and if you're wondering can dogs go into restaurants in Nazaré, the answer is YES! Most of the restaurants in Nazaré have outside/covered seating where dogs are more than welcome, as long as they're well behaved. Just be sure to ask the staff before seating yourself.
How much time do you need in Nazaré
So how much time do you need in Nazaré? I'd say for a comfortable visit that allows for weather changes – especially if you're wanting to see the Nazaré big waves – and a steady stroll around, you'll want to plan at least 3 days. That's not including any day trips from Nazaré. Sightseeing set aside, 3 days also allows you time to try more of the amazing restaurants in Nazaré!
Quick Facts About Nazaré
Best time to see Nazaré waves:
October - March
How to pronounce Nazaré:
Naz-a-ray
What is Nazaré famous for:
Record breaking waves
Can you swim at Nazaré :
Yes, in areas, but be mindful of the flags.
Have you added Nazaré to your Portuguese road trip itinerary yet? Which of these things to do in Nazaré are you eager to do yourself? Were you surprised to hear that Nazaré is so dog friendly? Let us know in the comments, along with any other questions you might have and don't forget to share so others can learn more about this beautiful coastal town.
Our latest video
Read all 'bout it
Amazon Disclaimer
Officer Travels is a participant in the Amazon Services LLC Associates Program, an affiliate advertising program designed to provide a means for sites to earn advertising fees by advertising and linking to  amazon.com
You might like these!